A Draft League Based on MLB Players Beginning with the 1948 Season
=Our Scoreboards Don't Tell the Fans When to Cheer=
Tri-Town's Dooin Suspended!!
Skipper to Sit Out Five Games!!
The Lecheros Keep on Wynn-ing!!
Season III

(Statis-Pro)


Division One
(140 Games)

W
L
Pct.
GB
Division Two
(102 Games)
W
L
Pct.

GB

Red Kegs
23
16
.590
-
Mutuals
20
16
.556
-
Tri-Town
22
17
.564
1
Sun Kings
18
18
.500
2
Bitters
20
19
.513
3
Spiders
17
19
.472
3
B's
19
20
.487
4
Lecheros
17
19
.472
3
Arsenals
18
21
.462
5
Blues
15
24
.385
8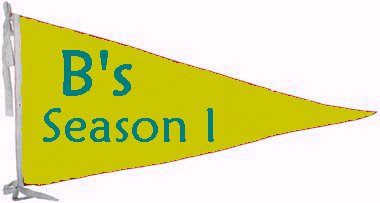 The Scoop Behind the Headlines!!!
Tri-Town skipper Red Dooin has been suspended by the commissioner for five games for his role in the beaning of Red Kegs second baseman Bobby Avila. "I should have suspended him five games for each time he ordered Avila to be hit!" said league commissioner Louie Kuhn, looking sharp after getting a haircut down the street. Tri-Town announced that Dooin's spot will be taken over by interim manager Bob "Bobbo" Davidson, his second spin as interim skipper. His first was in season three of the original 5Y League, when he was called upon to guide the Toros following a seven game suspended handed down on skipper Don Zimmer, who went into the stands to fight with a teenage girl. Davidson went 4-3 over that seven game stretch, and hopes to improve on that record. "With this bunch, we'll destroy whoever we play!!" he boasted to the press.
Fast and dirty stats for you; since all teams are at the 35 game mark, we'll present the league leaders, leaving you to peruse the stat links below to break things down even more for yourself...Mutuals second baseman Red Schoendienst is hitting .417 and is tied with George Kell with 58 hits. Ted Williams of the B's has twelve homers, two more than Ralph Kiner of the Lecheros, B's teammate Johnny Mize and Gus Zernial of the Bitters. The pitching leader is the Lecheros Early Wynn (0.90), who shares the league lead in wins with Red Kegs hurler Sid Hudson. George Spencer leads everyone in saves with nine.
In other news, things got ugly during the last three game series between the visiting Tri-Towns and the Red Kegs. Kegger second sacker Bobby Avila was hit by pitches three times in the final two games of the series, while Red Kegs pitcher Murry Dickson retaliated by hitting Tri-Town outfielder Andy Pafko, who had hit a home run in the finale, sending both benches into a feeding frenzy. Still waiting to see what the commissioner decides as far as punishment for this ruckus. With game 35 comes trade talk. We could see a lot of movement of some sluggers, as Gil Hodges, Ted Kluszewski and Sam Jethroe are some names being tossed around. Everyone needs starting pitching, and as teams do what they can to use up innings in order to bring up more players or even get a random pick, the phenom high on the list is Warren Spahn, who amazingly has not been picked up by any club, and here we are in season three!
Lots more coming up...after the trades we will get the pitching matchups set up and will resume play beginning with a trio of four game series in Division One. Grab a cold one and flip 'em or roll 'em if you've got 'em...we're getting ready to head into some hot winter league action!!!
THIS JUST IN!!!!- Spiders send RF Enos Slaughter to Lecheros for CF Johnny Groth...(11-1-19)!!!
One trade has come to light after the 35 game stat break, as the Spiders swap rightfielder Enos Slaughter for the Lecheros centerfielder Johnny Groth. Both players had seen limited playing time this year, Groth appearing in 13 games, hitting a pretty nice .410 in 39 at bats for the Lecheros. Slaughter was hitting an even .400 for the Spiders, playing in 16 games and having 55 at bats. Slaughter has two home runs and eleven RBI to Groth's one homer and four RBI. Both players are expected to see their playing time noticeably increase.
Game Writeups:

Division One Games 1-12 13-23 24-35 36-39

Did you know?...
The Bitters boast no less than three players named "Roy," and that from time to time they not only are in the ball game at the same time, but they bat in order! The three Roys are Hartsfield, Smalley and Sievers. Almost up there, but in the same 'ballpark' is Spiders reliever Normie Roy. Tri-Town starter Preacher Roe missed this club by one letter!

DIVISION ONE GAMES 36-39
DIVISION TWO GAMES 37-39

TRI-TOWN 0 - 1 - 10 - 16




BITTERS 1 - 7 - 8 - 12

RED KEGS 10 - 2 - 12 - 7
ARSENALS 2 - 3 - 6 - 0

BLUES 0 - 3 - 5 - 2
B'S 1 - 2 - 8 - 4

SUN KINGS 3 - 8 -




SPIDERS 4 - 7 (10) -

LECHEROS
MUTUALS

Send comments, threats, cash or free tickets to Louie Vasquez (eats left, throws right)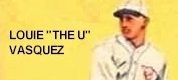 -a Division Two guy if there ever was one...Updated 12/28/19.
In memoriam: Marie Elena Monica, October 26, 1937 - June 10, 2009; Robert George Monica, October 22, 1937 - August 30, 2012. Rest in peace Mom, Bob. I love you.
Richard "Pops" Meek, February 21, 1932 - October 5, 2014; Asuncion Sarmiento (Uncle Joe), August 15, 1941 - November 11, 2014; Constance "Connie" Eula, January 3, 1926 - March 4, 2015.
James Anthony "Jimmy" Vasquez. My little brother. November 11, 1960 - December 13, 2017. Rest in peace. I love you and I miss you so f*****n' much.
"No matter what life throws at you, if you can grab the cards and dice for just a little while each day, the world is a good place."
-thekline