A Draft League Based on MLB Players Beginning with the 1948 Season
=Our Scoreboards Don't Tell the Fans When to Cheer=
Lecheros' Schmitz Gets a 'W'!!
Tri-Town First Team to Win 30!!
Newhouser Wins His Second in a Row!!
Season III

(Statis-Pro)


Division One
(140 Games)

W
L
Pct.
GB
Division Two
(102 Games)
W
L
Pct.

GB

Tri-Town
30
21
.588

-

Mutuals
26
19
.578
-
Red Kegs
27
24
.529
3
Lecheros
23
22
.511
3
B's
25
26
.490
5
Spiders
21
24
.467
5
Bitters
25
26
.490
5
Sun Kings
20
25
.444
6
Blues
25
26
.490
5
Arsenals
21
30
.412
9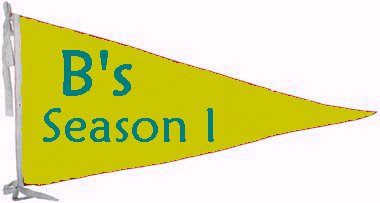 The Scoop Behind the Headlines!!!
Tri-Town took three on the road against the Red Kegs, and it is clear that these two teams do not like each other, as the bean ball war that erupted a few games ago, raised its ugly head in the finale, this time with Red Keg pitchers throwing at Tri-Town batters. First, Sid Hudson plunked Hoot Evers in the first inning (Evers eventually scored), but both benches received early warnings. In the eighth, Frank Smith in relief of Hudson, hit the venerable Stan Musial during an eight run Tri-Town inning. Smith and Musial exchanged dirty looks, but nothing came of it, as Kegger catcher Clyde McCullough played peacemaker, allowing everyone to settle down. Tri-Town entered the series one up on the Red Kegs, and now have a nice three game lead. Meanwhile, the Blues just keep on rolling, sweeping their second straight series as they took care of the Arsenals to climb out of the Division One cellar. In that series opener, Hal Newhouser picked up his second win of the year with a 6-3 win to improve his record to 2-6. The 5Y League's only twenty game winner was wondering if he would ever get a win, but now he has a couple, and Blues fans are hoping he has found his groove. Key players from the Bitters and B's will miss a few series due to injuries incurred during the four games played in B's Park. In the second game of their four game set, B's slugger Johnny Mize collided with relief pitcher Dick Weik going after a foul ball. The "Big Cat" will miss twelve games. Earlier in the game he hit his fifteenth home run of the year. In the finale, Bitters third baseman Johnny Pesky was hurt as he went after a foul ball. He'll miss eleven games. Gus Zernial, who patrols the left field garden for the Bitters, had a tremendous series, going 10 for 19 (.526) with two doubles, a home run (13) and three RBI.
Action now turns to Division Two, where things are just as interesting. The Mutuals just look unbeatable as they approach the half-way point in their season. They've got the horses, the pitching, and the bench. They have a four game lead over everybody in that division. The Lecheros got back to back complete game victories from Early Wynn, and with his 8-1 record, the burning questions turn to his chances of winning twenty and how long can the Lecheros stay in the race. The Spiders lost a little ground to the Sun Kings, as both clubs struggled with their starting pitching over the last two series. D2 teams are playing sets of three game series. First up will be the Mutuals on the road against the Spiders, while the Sun Kings hit the road against the Lecheros. The Spiders by the way, will have a grueling ten game road trip after their series with the Mutuals. They begin with three against the Sun Kings, followed by three against the Lecheros. Then, because of a quirk in the schedule, they will play away against the Sun Kings for four. After this, they will finally come home to tackle the Mutuals in a four game set. "Phew! That sounds like a job and a half, ma'am!"

DIVISION ONE GAMES 48-51
DIVISION TWO GAMES 46-48
TRI-TOWN 6 - 1 - 4 - 15
ARSENALS 4 - 6 - 3 (10) - 9

BITTERS 13 - 5 - 2 - 5
BLUES 8 - 6 (15) - 3 - 4

RED KEGS 3 - 4 - 5 - 3
B'S 4 - 1 (14) - 4 - 1

LECHEROS
MUTUALS

SPIDERS
SUN KINGS

Send comments, threats, cash or free tickets to Louie Vasquez (eats left, throws right)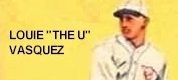 -a Division Two guy if there ever was one...Updated 3/31/20.
In memoriam: Marie Elena Monica, October 26, 1937 - June 10, 2009; Robert George Monica, October 22, 1937 - August 30, 2012. Rest in peace Mom, Bob. I love you.
Richard "Pops" Meek, February 21, 1932 - October 5, 2014; Asuncion Sarmiento (Uncle Joe), August 15, 1941 - November 11, 2014
Constance "Connie" Eula, January 3, 1926 - March 4, 2015. Robert "Bob" Eula, May 27, 1929 - January 16, 2020.
James Anthony "Jimmy" Vasquez. My little brother. November 11, 1960 - December 13, 2017. Rest in peace. I love you and I miss you so f*****n' much.
"No matter what life throws at you, if you can grab the cards and dice for just a little while each day, the world is a good place."
-thekline