A Draft League Based on MLB Players Beginning with the 1948 Season
=Our Scoreboards Don't Tell the Fans When to Cheer=
----------------------------------------------------------------------------------------------------
Pennant Races Tightening!!!
Joey D. Going Berzerk at the Plate!!!
Spiders, Bitters Tied. 30 Left to Play!!!
The Blues went 4-4 in their last eight games, while Tri-Town went 6-2 and the Arsenals went 5-3, setting up a three team race for the Division One flag. The Blues are showing they are not letting up, however, as they drubbed the Lecheros in their last four game set, outscoring them 40-14, including a 22-2 slaughter in which Lecheros reliever Jess Dobernic (0.00 ERA in 7.2 IP) took a big one for the team, giving up fifteen earned runs in one inning of relief, pushing his ERA to 15.57...Ouch! The Blues batted around twice in the sixth inning of that one. The Blues continue their long road trip, heading over to play four each with the Red Kegs and the B's before returning home to face Stan "The Man" and his Tri-Town gang. The Bitters and Spiders are tied for first in the Division Two pennant race, and those clubs are down to their final thirty games of the season. They lock horns right away with a three game set in Bittertown, while the Sun Kings and Mutuals slug it out for third place, and let me tell you- don't count the Sun Kings out yet...They are all set to play the spoiler role as the season winds down. Blues outstanding star outfielder Joe DiMaggio has enough juice left for a couple of games, and lately he has just been ripping it up, as if to make a clear statement to watch out for him next season. In his last seven games, he's hit .379, with two HR and five RBI, giving him a breakdown to this point of .442/27/89! Ralph Kiner is right behind him with 26 jacks and 75 RBI. Hot stuff, boys!! Need to put some cold ones on ice while we watch things develop! So come on in, the press box is open, and the games are about to roll on!!!
========================================================================
Season II

(APBA)


Division One
(140 Games)

W
L
Pct.
GB
Division Two
(102 Games)
W
L
Pct.

GB

Blues
47
31
.603
-
Bitters
43
29
.597
-
Arsenals
45
33
.577
2
Spiders
43
29
.597
-
Tri-Town
44
34
.564
3
Mutuals
32
40
.444
11
Red Kegs
36
42
.462
11
Sun Kings
26
46
.361
17
Lecheros
31
47
.397
16
B's
31
47
.397
16
Now Playing: Division Two Games 73-78
On Deck: Division One Games 79-86
ARCHIVE GAME WRITE-UPS
DIVISION ONE GAMES 36-51 52-64 71-78
DIVISION TWO GAMES 31-38 39-51 65-72

It's a Hit! It's a Beer!

Division One Games 79-90
Division Two Games 73-81
LECHEROS @ B'S
Gettel v Chipman
Wynn v Dobson
Schmitz v Brecheen
Brissie v M.Kennedy

BLUES @ RED KEGS
Parnell v Dickson
Pollet v Garver
Newhouser v Coleman
Kinder v Hudson

ARSENALS @ TRI-TOWN
Wehmeier v Branca
S.Jones v Benton
Brazle v Roe
H.Fox v Scheib
MUTUALS @ SUN KINGS
Lopat (7-8) v Embree (5-9)
Fannin (1-0) v Kramer (3-10)
Lemon (10-6) v Barney (7-6)

SPIDERS @ BITTERS
Kellner (10-5) v Raschi (8-3)
Jansen (6-4) v Wight (4-7)
Raffensberger (8-6) v Trucks (12-5)
BLUES @ B'S
RED KEGS @ ARSENALS
TRI-TOWN @ LECHEROS
BITTERS @ MUTUALS
Feller v Houtteman
Raschi v Lopat
Wight v Fannin

SUN KINGS @ SPIDERS
Reynolds v Hutchinson
Embree v Kellner
Kramer v Jansen
ARSENALS @ LECHEROS
RED KEGS @ B'S
TRI-TOWN @ BLUES
BITTERS @ SUN KINGS
MUTUALS @ SPIDERS
"&&&" HIT SIGN, HAVE A BREWSKIE! "&&&"
ksksk

Send comments, threats, cash or free tickets to Louie Vasquez (eats left, throws right)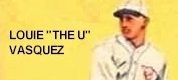 -a Division Two guy if there ever was one...The Retro 5Y League has started season II...Hooray!! Updated 8/21/17.
Marie Elena Monica, October 26, 1937 - June 10, 2009; Robert George Monica, October 22, 1937 - August 30, 2012. Rest in peace Mom, Bob. I love you.
In Memoriam: Richard "Pops" Meek, February 21, 1932 - October 5, 2014; Asuncion Sarmiento (Uncle Joe), August 15, 1941 - November 11, 2014; Constance "Connie" Eula, January 3, 1926 - March 4, 2015.
"No matter what life throws at you, if you can grab the cards and dice for just a little while each day, the world is a good place."
-thekline