A Draft League Based on MLB Players Beginning with the 1948 Season
=Our Scoreboards Don't Tell the Fans When to Cheer=
----------------------------------------------------------------------------------------------------
D2 Reaches Mid-Point of Season!!!
Bitters Get Hot, Spiders Get Cold!!!
Bitters Trade For a 1B!!!
The Bitters dropped two to the Spiders, then swept the Sun Kings while the Spiders got swept by the Mutuals, and now the top two teams in Division Two are separated by two games midway through the season. Might not be a good time to talk to Spiders reliever Satchel Paige. The hard throwing righty made four appearances over the last six games, and he recorded one save- his tenth of the year, but lost his first three games of the season, all in relief. He ended up tossing 4.2 innings, and allowed five earned runs. Ouch! In game 47 against the Sun Kings, Mutuals starter Bob Lemon went deep twice in the game, both on solo shots. He picked up his seventh win, and has now won six straight. He is the only pitcher in the league who has hit two homers in one game and has struck out ten batters or more in one game this season. Bitters rightfielder Carl Furillo finally smacked home run number thirteen in game 47 against the Spiders. It was his first home run in18 games. The next day he cracked number fourteen. Bitters fans hope he keeps it up. "If he doesn't, we're gonna be awful bitter!" warned one Bitterite. The Bitters lost their latest first baseman Walt Dropo, and with no reserves available went to the trading table. At first, talk in the media ran high about a deal with the Red Kegs for Ted Kluszewski, but that deal fell through. Eventually, the Bitters picked up the contract of B's reserve first baseman Ed Stevens in return for minor league reserve starter Billy Pierce. "We had nothing to sweeten the deal with the Keggers, so we went out and got a dependable fielder who knew the position and has a ring," explained someone in the Bitters organization at a recent press conference. No one knew who he was. Ah, so what! The drinks were free! So now, on to D1 play, where the top three teams are four games apart, and where the defending champs are fighting to stay out of the cellar. We're marching on boys, so pop a fresh one and roll 'em if you've got 'em. It's time to hit the ball orchard, and watch them play the little boys game!!!
========================================================================
Season II

(APBA)


Division One
(140 Games)

W
L
Pct.
GB
Division Two
(102 Games)
W
L
Pct.

GB

Blues
33
18
.647
-
Spiders
32
19
.627
-
Arsenals
29
22
.569
4
Bitters
30
21
.588
2
Tri-Town
29
22
.569
4
Mutuals
23
28
.451
9
Red Kegs
22
29
.431
11
Sun Kings
17
34
.333
15
B's
20
31
.392
13
Lecheros
20
31
.392
13
Now Playing: Division Two Games 46-51
On Deck: Division One Games 52-58
ARCHIVE GAME WRITE-UPS
DIVISION ONE GAMES 36-51


It's a Hit! It's a Beer!

Division Two Games 46-48
Division Two Games 49-51
SUN KINGS 7 --- 4 --- 0
MUTUALS 4 --- 5 --- 2
SPIDERS 2 --- 0 --- 2
MUTUALS 3 --- 3 --- 3
BITTERS 3 --- 4 --- 6
SPIDERS 5 --- 3 --- 8
BITTERS 7 --- 12 --- 7
SUN KINGS 5 --- 10 --- 4




"&&&" HIT SIGN, HAVE A BREWSKIE! "&&&"
ksksk

Send comments, threats, cash or free tickets to Louie Vasquez (eats left, throws right)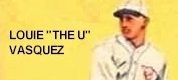 -a Division Two guy if there ever was one...The Retro 5Y League has started season II...Hooray!! Updated 5/13/17.
Marie Elena Monica, October 26, 1937 - June 10, 2009; Robert George Monica, October 22, 1937 - August 30, 2012. Rest in peace Mom, Bob. I love you.
In Memoriam: Richard "Pops" Meek, February 21, 1932 - October 5, 2014; Asuncion Sarmiento (Uncle Joe), August 15, 1941 - November 11, 2014; Constance "Connie" Eula, January 3, 1926 - March 4, 2015.
"No matter what life throws at you, if you can grab the cards and dice for just a little while each day, the world is a good place."
-thekline